Left Unattended: Hip-Hop Branding and Words of Wisdom From Rakim Jay-Z famously said "I'm not a businessman, I'm a business, man!" And D-Stroy explains just that as today's rappers are more entrepreneurial than ever before. He goes into brands who took rappers to the next level and those who "should be in an elevator ride with Solange." He even teaches us about hip-hop's first endorsement deal! Hint: Run–D.M.C were involved.

Then D-Stroy hangs out with Rakim, who MTV hails as one of the greatest MCs of all time. Rakim continues the convo on hip-hop branding and shares his love of Air Force 1 kicks. Don't sweat the technique.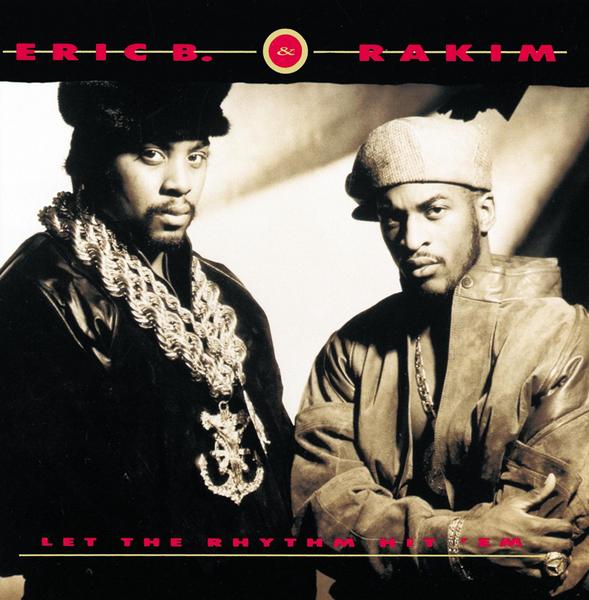 Let the Rhythm Hit 'Em is Eric B and Rakim's 3rd album, released in 1990. The group's sound develops further, with Rakim adopting a deeper, more aggressive tone of voice, and more mature and serious subject matter. Musically, the production ranges from smoother soulful tracks such as "In the Ghetto" to the hard-edged assault of the title track "Let the Rhythm Hit 'Em."
A classic on the album was "Mahogany" which was sampled in "N.Y. State of Mind" from the album "Illmatic" and "N.Y. State of Mind Pt. II" by Nas from the album I AM..
Despite the fact that it didn't produce any hit singles as popular as the duo's previous albums, it is considered by many to be their most coherent album, and is one of only a few rap albums that have received a 5-mic rating when it was reviewed in The Source Magazine.
The back cover features a dedication to the memories of Rakim's father William and producer Paul C, who had worked on many of the album's tracks before his murder in July 1989. Paul C was shot to death in Rosedale, Queens at the age of 24. His murder was featured on America's Most Wanted leading to the arrest of Derrick "Little Shine" Blair, who was later released due to lack of evidence. The case has yet to be solved. However, Paul's protégé Large Professor completed his work. Neither received credit in the album's notes.
HAPPY BIRTHDAY TO: Aaron Tyler (born on May 22, 1967 in Compton, California), better known as MC Eiht. His stage name was partly inspired by the numeral in KRS One's name. He chose Eiht for its links to "hood culture", including 8Ball and .38 caliber firearms. He is a member of the rap group Compton's Most Wanted. I didn't follow him tough, because I was on in NYC but "Growin' Up In the Hood" off the "Boyz In The Hood" soundtrack that I loved.
The day I fell in love with this song, my older brother ran in the house with a Solo-Flex (Exercise machine) How'd he get it? Someone ordered it, who lived a across the street and my brother signed for it when UPS delivered it. Next thing you know we had an exercise machine that barely got used but to hang clothes on. However, I'll always remember me rewinding that song back as I put together the Solo-Flex with my brother. Look out for his new material with DJ Premier.
Kejuan Muchita (born May 21, 1974), better known by his stage name Havoc, is one half of the Mobb Deep originally named Poetical Prophets with Prodigy. They both met when they were 14 and together attended the High School of Art and Design. He produced most tracks on Mobb Deep's albums and also did production for Nas, Notorious B.I.G., Eminem and more.
Young Mobb Deep in school
Anthony Williams (May 17, 1972 – September 19, 2009), better known as Roc Raida or Grandmaster Roc Raida, was a DJ, Turntablist and Producer. He was also a member of the legendary DJ group, The X-Ecutioners.
He was the 95' DMC Champion World DJ Champion, Busta Rhymes DJ and produced joints for Big Pun, Jungle Brothers and laced some amazing scratches on several songs.
I had the pleasure of knowing Raida during the Arsonists days and being the X-ecutioners tour M.C.. He laughed alot, wore a horse mask at times and put me on to the comedy "Kung Pow", he was a character. I remember going to his house and seeing him and DJ Babu watching "Good Times" high as hell. On tour, he always trained with the X-Ecutioners manager, doing Martial Arts while me and Total Eclipse would workout.
The most memorable thing I could remember about Roc Raida is not only how he scratched but the flavor he scratched in. His facial expressions and his body just had such a rhythm. I never seen it before nor after and I doubt I'll ever see it again. Lot of Hip Hop dudes who seen him rock, know what i'm talking about.
He died on September 19, 2009 from cardiac arrest due to complications a few weeks earlier relating to an accident while training in Krav Maga
. Anthony "Grand Master Roc Raida" Williams is survived by his wife and three daughters Asia, Nyra and Tia.
Raida's funeral service was not only a who's who in NYC Hip Hop but also just overall out of a movie not because of those in attendance but it was so grand. Which was fitting for Grand Master Roc Raida.
Check out this classic Pepsi Commercial he was in. Rest Peacefully Roc Raida. I Love You.
<<

Start

<

Prev

1

2 3 4 5 6 7 8 9 10 Next > End >>


Page 1 of 12